In the wake of the COVID-19 pandemic, The Salvation Army continues to serve. Learn how to give help, or get help
In the wake of the COVID-19 pandemic, The Salvation Army continues to house the homeless, feed the hungry and meet human needs in every respect. If you're in need, please call your local Salvation Army or find a location near you.
Continue to check back here, on the Western Territory's official publication, New Frontier, or on our National website for the latest resources and updates regarding COVID-19 and The Salvation Army.
If You Need Help
Please contact your local Salvation Army as service hours and locations may have changed.
Find Your Local Salvation Army
---
If You Want to Help
Financial donations are the best way to help as they allow us to purchase goods in bulk and help support the local economy.
Our thrift stores are continuing to accept in-kind donations including COVID-19 essentials such as non-perishable foods, cleaning and santizing products, baby products and other items.
Please click here for locations and information on what we can accept.
---
How The Salvation Army is Helping
With a presence in almost every ZIP code in America, The Salvation Army is uniquely positioned to respond to the unique needs of people living in poverty. These challenges are exponentially magnified during times of crisis, including pandemics like coronavirus (COVID-19).
To see how we're responding, state-by-state, please visit our National Website.
---
A Message from Commissioner Kenneth G. Hodder
Western Territorial Commander Kenneth G. Hodder issued a video message March 13 reminding them of The Salvation Army's continued efforts to serve those in need without discrimination during the global coronavirus pandemic.
"The Salvation Army is continuing to serve those in need. We are still feeding the hungry, housing the homeless, and helping those who suffer from addiction," Hodder said. "While the means of delivering our services might be changing, our mission hasn't. Within the limitations and guidance of government authorities, we will not stop proclaiming the gospel of Jesus Christ and meeting human needs in his name without discrimination."
Follow Commissioner Hodder on Twitter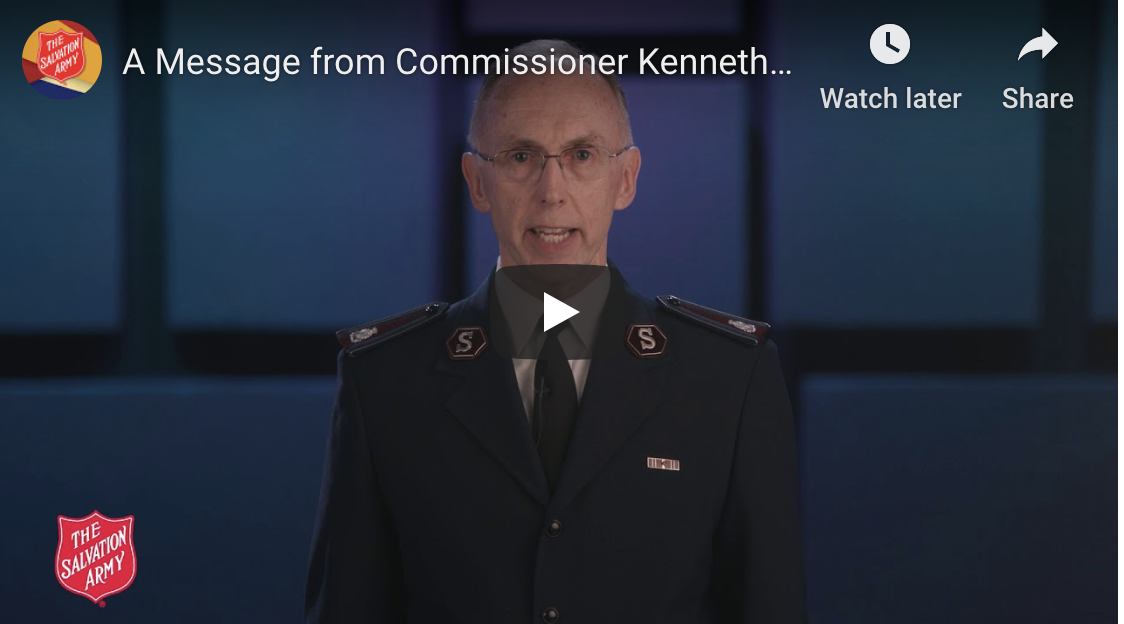 ---
Silvercrest Residences and Social Services
Throughout the Army's programs and social services, leaders are taking precautions in compliance with CDC guidelines. Managers of the West's Silvercrests, apartment-style communities for low-income seniors, are monitoring their local health agencies for information to share with residents, Silvercrest Executive Director Susan Lawrence said.
"We are concerned because we know our residents are potentially in the high risk categories," Lawrence said.
"We are educating our residents about the virus and asking them to practice safe interactions including replacing handshakes and kisses with non contact greetings.
We've increased our cleaning protocols for the common areas and touch points throughout the Silvercrests. We've eliminated open food, offering instead individually wrapped snacks and drinks."
---
News and Updates
New Frontier Chronicle, The Salvation Army USA Western Territory's official publication
The Salvation Army National website
Follow Commissioner Hodder on Twitter